Just when I thought I wouldn't see another membership plugin for a while, I mean, how many could there be — Paid Member Subscriptions came across my desk.
The following tutorial is sponsored from the fine folks over at Cozmoslabs, creators Paid Member Subscriptions , and of a handful of other WordPress plugins. 
So let's get back to needing yet another membership plugin, shall we? If you're an avid WordPress tutorial reader, you might notice that 90% of the author's recommendation end with,"it depends."
I think there's a better conclusion most writers should end with, and that's: expressing the opinions of the software. In this case, from my time setting up Paid Member Subscription, I feel like it excels based on it's no-frills attitude. That it's geared towards someone that doesn't want everything and the kitchen sink.
But, this isn't a review, it's a tutorial — let's dive in.
Paid Member Subscriptions Overview
In the video below, I'll walk you through setting up a very basic membership website using, Paid Member Subscriptions plugin for WordPress.
Subscribe to the PluginTut YouTube channel!
Who is Paid Member Subscriptions for?
You can get the free plugin download here.
You can get the Pro (paid) version here.
If you're someone that's looking to quickly setup a membership site on WordPress, you want to give this plugin a strong look. Having said that, spend some time planning out your new membership site, especially if it's a means for income. Plan out, as best you can, the features and functions you desire. Review the add-ons that Paid Member Subscriptions has in their ecosystem, and see if it aligns with your goals. That's advice I give every time you're looking for the best WordPress plugin, not just this one.
For example, what payment processors do you plan on using, like Stripe or PayPal. Free Paid Member Subscriptions comes with basic PayPal support, if you need Stripe you'll have to upgrade to the Pro version ($149), for instance.
Simplicity for new users & consultants alike
Often times, the big functionality of a plugin can be overwhelming for a user — especially membership plugins. Building a membership site is very subjective, each owner of a site, has her own way of structuring payments and configuring access to content.
Paid Member Subscription, at the free level, has seriously cut through the fat in their approach.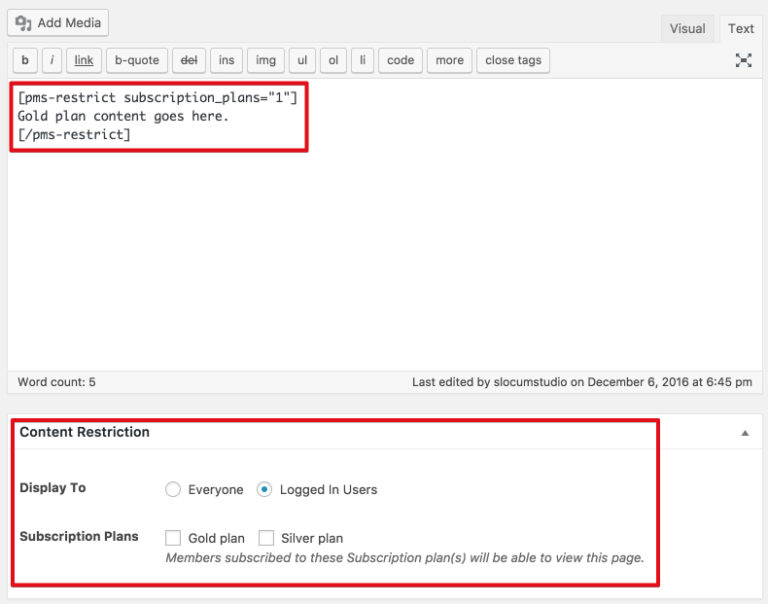 Protecting content:
Use shortcodes to wrap content you want to protect
Use a metabox to protect an entire page or post
Identify roles in each instance
That's it! If your membership relies on a straightforward membership access approach, with clearly defined content access between user roles, you're headed in the right direction.

Setting up membership access levels
I know, I skipped ahead by telling you how to protect content, but that's usually the first point of contention for new membership site owner. Let's talk about creating the membership access levels
Setting up subscriptions
Browse to Subscription Plans
Name your plan
Fill out description, duration, price, status, and user role
Paid Member Subscriptions offers one of the most streamlined efforts I've seen for setting up a membership subscription plan. I specifically like the part where the plugin will create a new role based on the name of your plan.
Nice touch.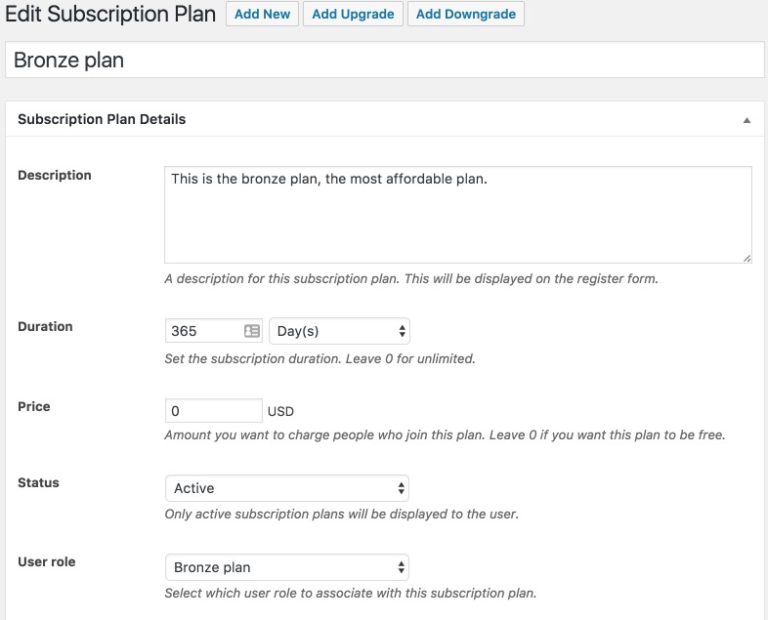 Upgrades and downgrades
You'll notice at the top of the membership details screen, a link to add an upgrade or downgrade. Basically, this is a way to seamlessly nest plans with one another during your setup process. You can also accomplish this on the global subscriptions page as well.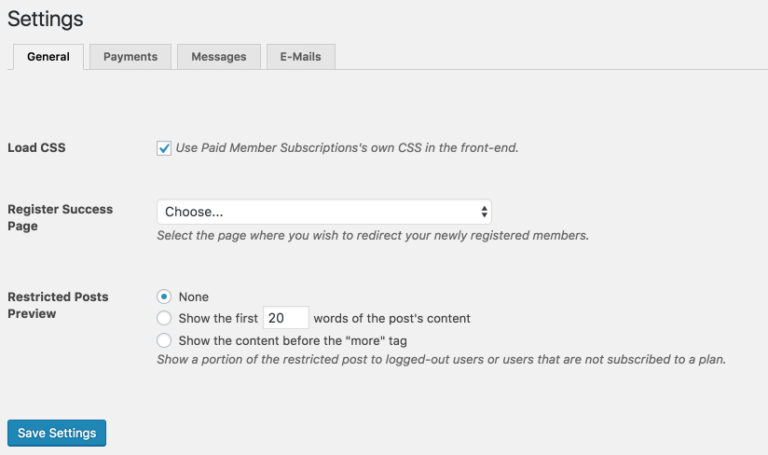 Global settings
Cozmoslabs also found a way to avoid complex global settings pages as well. Again, under the free version of the plugin, you're not drowning in complex setup processes. Under settings you'll most likely be interested in:
Payment setup
Restricted/unrestricted messages
Registration e-mails
Each come with a WYSIWYG text area to customize such messaging. Super-useful to make the upsell notifications or lead visitors to a purchasing page. Same goes for user registration, you can throw in some handy resources into your e-mail, like a getting started page.

Extending through add-ons; the Pro version
Like a majority of freemium plugins, you can extend Paid Member Subscriptions through add-ons, based on a paid upgrade. At the time of this tutorial, there's three plans:
Lifetime plan ($349) all add-ons and support for life
Pro version ($149) w/ 5 Pro add-ons & 5 basic add-ons
Hobbyist ($69) w/ 5 basic-add-ons
The most attractive add-ons in the Pro plan would be Stripe payment processing and content dripping. Otherwise, if you fall under the Hobbyist plan, you can enjoy creating discount coupon codes. Take some time and explore the add-ons available and see if they fit the business model you're after.
You can access add-ons by visiting their website, or clicking the add-ons page in the plugin.
Conclusion
Paid Member Subscriptions is great for someone that doesn't want all the frills. If you're membership site doesn't require intricate membership plans, or loads of marketing features, this plugin makes sense. I enjoyed the easy-of-use and would recommend it based on my experience.
I didn't get a chance to dive into their pro add-ons, so I'd wager that would add more "complexity" to setting up the site, but its all relative.
Have any Paid Member Subscription stories to share? Post them in the comments.