WordPress 4.7 was recently released, and it ships with an all new default theme, Twenty Seventeen.
Twenty Seventeen is a big departure from the typical blog or magazine style theme we've come to expect with WordPress over the years. Small business owners, or service type freelancers, can now enjoy a default theme which is aimed to help them promote their work.
That's not to say that Twenty Seventeen isn't a good solution for bloggers, in fact, if you're new-age blogger/entrepreneur, this theme could prove useful for showcasing your membership offering or even your e-book.
At the end of the day, I enjoy Twenty Seventeen, and I'm excited to see the new direction it's headed in.
The Twenty Seventeen theme tutorial
In this video tutorial, I provide a complete overview of the options available in Twenty Seventeen, and work through setting up the custom home page options.
Here's the timestamp outline, which you can actually click on when watching in the YouTube player:
00:15 Thoughts on Twenty Seventeen theme
00:50 Using the theme; overview
01:38 How the home page is structured
02:48 How a page/content section is created
03:40 Add a read more link in the home page content sections
04:40 Using the theme customizer
05:38 Edit the top image/video of the theme
07:00 Customizing the theme colors
08:44 Customizing the home page content sections
10:05 Customizing CSS
10:56 Recap and final thoughts
Watch the Twenty Seventeen theme tutorial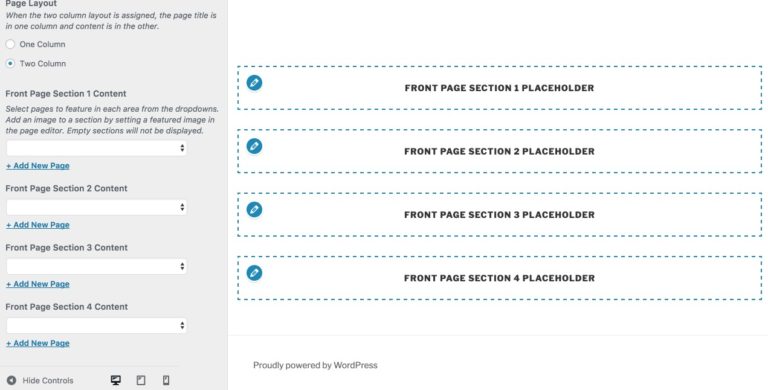 Building the Twenty Seventeen home page
Not only is this the first business focused theme that WordPress.org has shipped with a release, but it also includes new page building-like capabilities.
I'm still on the fence about how the theme actually builds the home page sections, but as you can see in the screenshot above, you assign pages to the various sections. Each page has to be created in the admin first, drop in whatever content you want, and that content will display prominently on the front page. Again, be sure to watch the video to see this in action.
I feel like it could be confusing for first-time users to think of pages as "blocks of content" for a home page, but I understand why they went about it this way.
Using pages, as you see above, gives a user increased flexibility with the content displayed. For example, You can craft a services page with a lot of content, shorten the display of that content by using the read more link, and then add a thumbnail, right justified.
What you get is a nice little summary, with a supportive graphic, neatly positioned on the homepage. You can also assign an engaging featured image, which acts as a full-screen "takeover" as a visitor scrolls down.
Where I think it might lack in setup, Twenty Seventeen exceeds in it's style.
Be sure to watch the video above to learn how to setup the theme, and use it for your business. Have some feedback about Twenty Seventeen, leave them in the comments below!
Summary
Reviewer
Matt Medeiros of PluginTut
Review Date
Reviewed Item
Twenty Seventeen WordPress theme
Author Rating