[su_note note_color="#fefaca"]If you're looking for the best commercial WordPress contact form plugin, I give the nod to Gravity Forms and Ninja Forms. Both have a great add-on ecosystem, are well-supported, and draw a photo-finish decision, boiling down to a tiered pricing model versus freemium, with add-ons. If you're looking for the easiest to use form plugin, and you don't need additional integrations, I recommend the Jetpack contact forms feature.[/su_note]
When it comes to picking the best contact form plugin for WordPress, there's a lot of plugins and features to review. First, you have to look at the website you're installing the contact form plugin on — is it a basic hobby site, or a more involved marketing lead generation sales page? Do you fancy yourself a power blogger, with a desire to grow an e-mail list? Maybe take a donation one day?
Start with planning ahead.
How to pick the best Contact Form Plugin for WordPress
In this article, I'll show you how to select the best contact form plugin for your WordPress website based on the following criteria:
I hate making the wrong technology choice, only to find out 8 months from now, I need to make a big switch — or a costly one.
What kind of site are you installing this contact form plugin on?
What is your skill level with WordPress?
Ease of use
Free vs. Paid
Support
Ecosystem
Once you define your immediate needs in a contact form plugin, how do you pick between the seemingly overwhelming choice of contact form plugins out there? For one, this guide aims to help you narrow it down, but second, you might want to take a look into the future.
That's right, take a look into your magical crystal ball — where will your website be in the future?
For instance, your quaint little knick-knack store probably isn't doing any serious list building right now, but are you at least considering it for the long term? What about making a transaction on your website, through credit card? I don't know about you, but I hate making the wrong technology choice, only to find out 8 months from now, I need to make a big switch — or a costly one.
Taking the time to determine your short-term & long-term goals for a contact form plugin might sound silly, but contact form plugins are what I consider, the "technological glue" for your blog or business.
Why you should trust this review
I've been building WordPress websites for nearly a decade and I've used nearly all of the plugins outlined in this article, and I know some of these developers personally. Including: Josh Pollock, James Laws, Syed Balkhi, and Carl Hancock.
All of them, with the exception of Gravity Forms, can be found in the WordPress repository. You can review each of their user-submitted reviews, support issues, and update history. It's a great place to get a sense of How to find the right WordPress plugin. While Gravity Forms is sold commercially on their own website, it is still one of the most recommended and well-known contact form plugins in the market, and is released under the GPL 3.0 license, as stated here. (http://www.gravityforms.com/terms-and-conditions/)
I have also witnessed a majority of the commercially available plugin authors sponsor WordCamps, of which includes: Gravity Forms, Ninja Forms, Formidable, Jetpack, and WPForms (through Awesome Motive their parent company.)
It's important to select a plugin where the authors are active and give back to the community. All plugins on this list, from my experience, have done really well at that.
Some links in this article will contain affiliate links. If I didn't trust the software, or the parent companies behind them, I would not include them. Making a small commission off of recommending good software to you, helps me keep the lights on around here.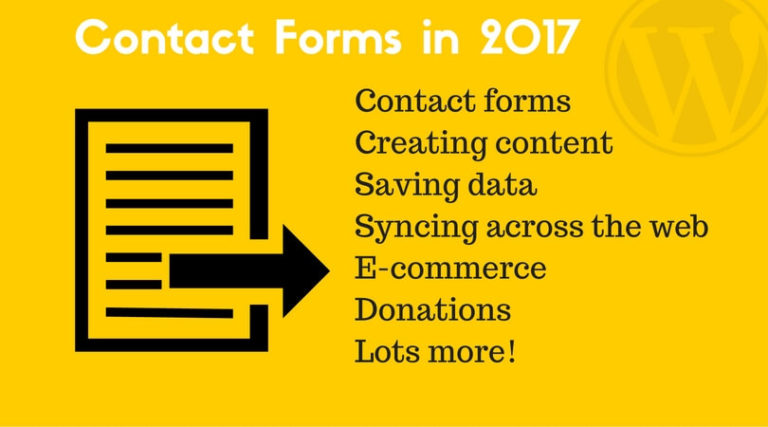 Website owners demand more from a contact form
Contact forms can do a lot, or a little for your WordPress website. Forms go beyond getting a note from your visitor, or contact information from a hopeful customer. Here's how a modern-day contact form plugin stacks up:
What you think a contact form does
Sends you a  visitor's name, e-mail, number, and a comment or question.
Modern contact form plugins go beyond that:
Accept a donation
Connect to your e-mail marketing platform (like Mailchimp)
Send leads to your constant contact account
Register users to your website
Accept online resume and applications
File uploads
Post WordPress content from the front-end
Configure online quizzes
And a lot more
Years ago, contact forms were fairly basic, allowing most website owners to capture basic form fields for the purpose of e-mailing (or calling) someone back. However, as the web became more complex, websites became more than just a blog or basic brochure site, and now contact forms are a lot more powerful. A majority of forms now act as the bridge to accepting data input from a user, and triggering a new action or pass that data on to a 3rd party API integration. No longer does it have to be your Gmail inbox, but now it can be funneled right into your customer relationship manager account.

How do you choose between them?
What you should know before evaluating contact form plugins
Earlier, I noted, that contact form plugins go beyond the simple act of "contacting" many beginners in WordPress might expect. Out of the seven plugins I looked at, only Jetpack contact forms walks away with the easiest to use badge, for two reasons: there aren't lot of features and the form builder is simple.
Contact form plugins have become increasingly complex over the years because website owners expect more from their website. Payments, and syncing data to the cloud are just the tips of the form plugin add-on iceberg.
If you wanted to pick a form plugin based on add-on count alone, Gravity Forms would win. They have 36 supported add-ons, which is more than any other form plugin provider.
Formidable has the highest count when you factor in their 3rd party plugins, but I don't consider 3rd party plugin providers in this round-up. I'm only considering, and recommending, supported add-ons directly from the company you're licensing support from. Ninja Forms also has a high add-on count, but at the time of this writing, only 17 add-ons of their 40+ collection are compatible with the current version 3 of their software.
Add-ons by the numbers:
Gravity Forms: 36
Formidable Forms Pro: 21 Pro add-ons
Caldera Forms: 20 add-ons
Ninja Forms: 17 add-ons (Version 3)
WPForms: 11 add-ons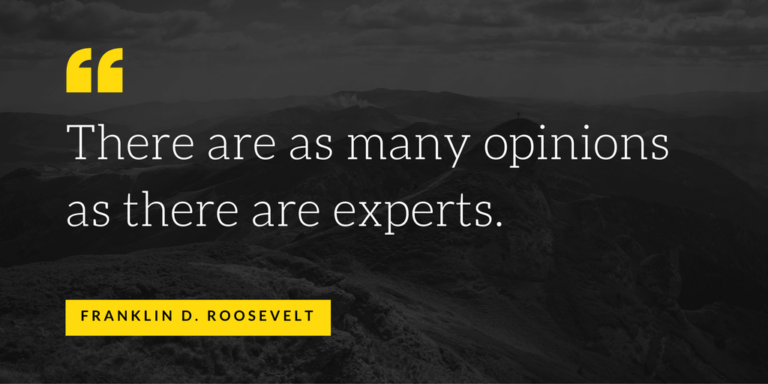 Using Form Builders
It's fair to say there's no one-size fits all when it comes to contact form plugins.
Each of the contact form plugins in this article bring their own opinion to building forms in a WordPress website, and that should be very important to your selection. Each contact form plugin has their own twist on form building. Sleek and modern, or, traditional and utilitarian.
It's not just about the form that shows on the front-end of your website, but what you used to build it. Each is opinionated in their approach, and you may be more comfortable using one over another. Again, consider the size of your website (i.e. how many forms) or how many sites you're supporting that will require you to spend time building many forms in the WordPress admin dashboard for hours.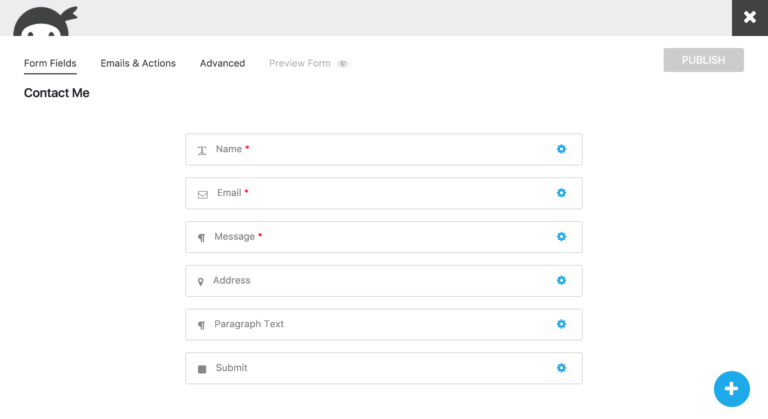 Ninja Forms: The most intuitive and friendly (even fun!)
If I were to pick a form plugin based on being the most intuitive and friendly, I'd give my vote to Ninja Forms. I'd categorize myself into the poweruser group of WordPress users, so I enjoy builder interfaces that feel much more "app like." Ninja Forms brings the user into a slick new interface for form building, and away from the traditional WordPress admin. It's smooth and buttery, and leaves you feeling like all of WordPress should be this way.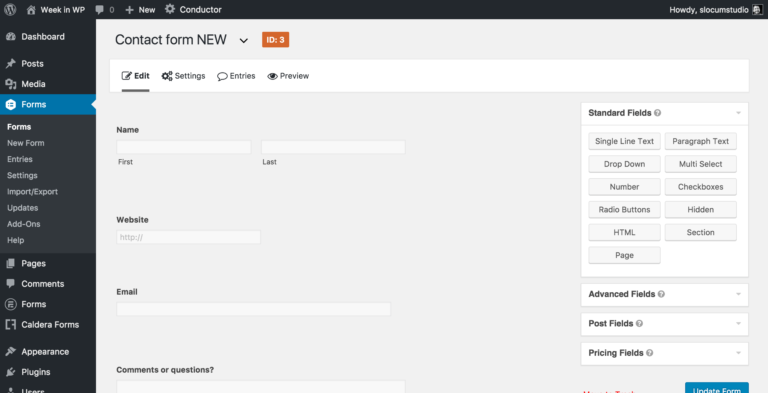 Gravity Forms: Tried and true
Gravity Forms has a no-nonsense form builder approach. While they've made enhancements over the years, it reminds me of Apple's Macbook — iterations make minor refreshes over the years — but look & feel isn't bleeding edge. This isn't a bad thing either. I'm sure with such a large install base, pushing the needle by moving things around could cause a bit of a headache.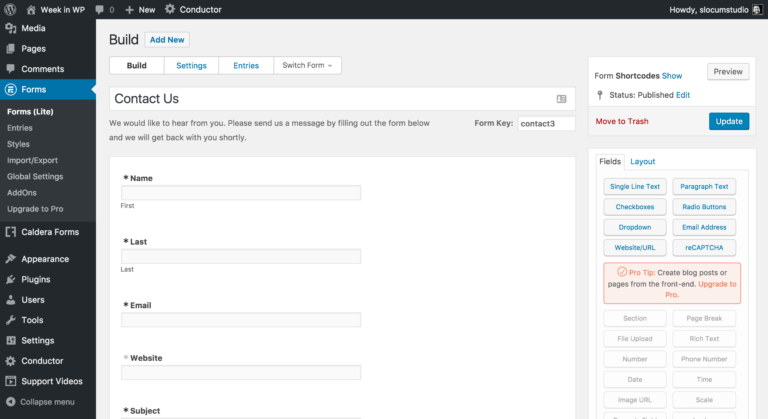 Formidable: Made for form designers
Formidable forms gives us a really powerful form field design options in their free plugin. This is a welcomed feature, especially in free (Ninja Forms has an add-on for this), for anyone that needs help making their forms look perfect. No need to edit the code under the hood, you can simply select the font sizes and colors to adjust.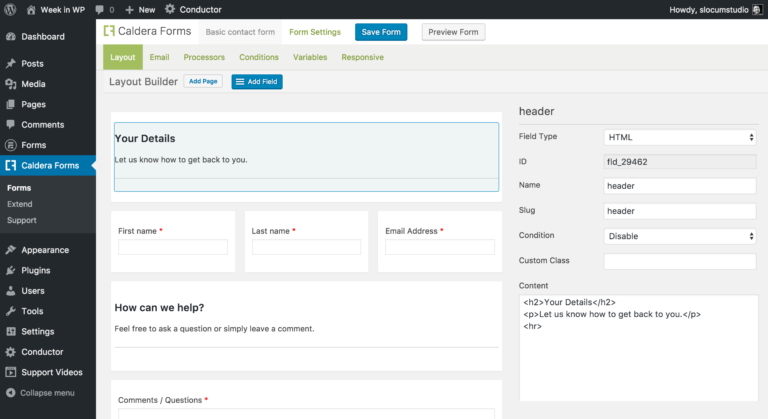 Caldera Forms: Made for developers
Caldera Forms, to me, feels like it was built for the developer community in mind. It's a smart move, since most folks putting together more complex WordPress websites consider themselves poweruser to developer centric. Their builder also lets you set up columns inside the form, great for those more complex layouts.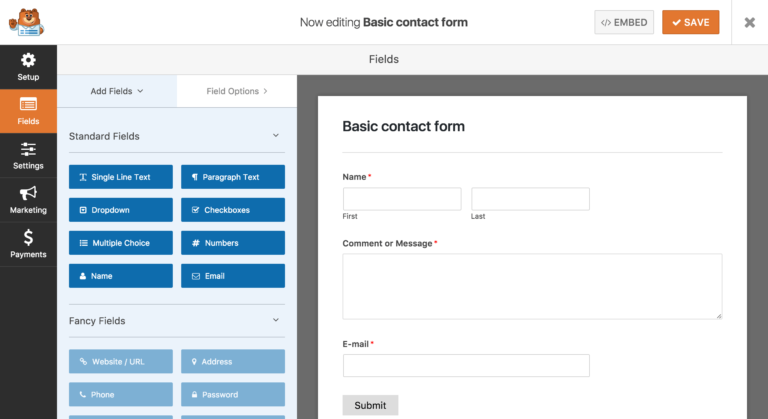 WPForms: Made for marketers
WPForms comes from the team behind OptinMonster, so you should expect that it's easy to use for the end-user. It feels more like a traditional SaaS application, which is no surprise given the team behind it. I liked it, it was familiar, and not over the top — except for the upsells. If you click into a pro feature, through the free plugin, you'll be reminded with a pop-up that you have to pay to play.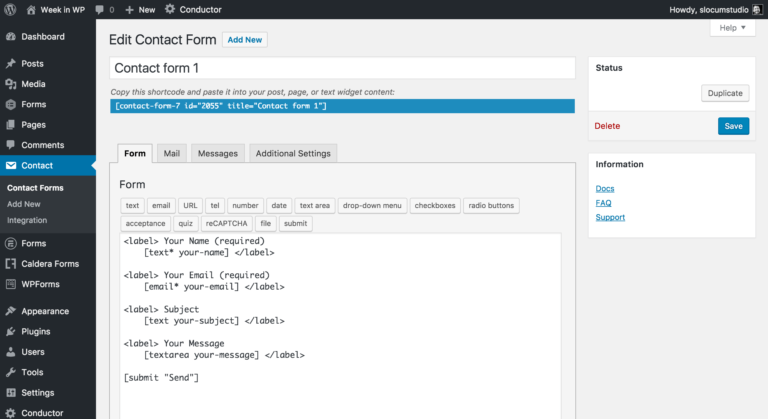 Contact Form 7: Made for purists
Contact Form 7 has been around since the dawn of contact form plugin time. It's probably why it's the #1 choice for contact forms in WordPress.org. Don't expect any fancy bells & whistles, and prepare to roll up your sleeves a bit. Though the plugin has made some minor improvements, you still find yourself typing into an edit box to create field labels and clicking some mundane looking icons to put everything together. Modern builders take care of this heave lifting. That said, it's still a customizable builder that doesn't have a lot of technical overhead, and that's a plus.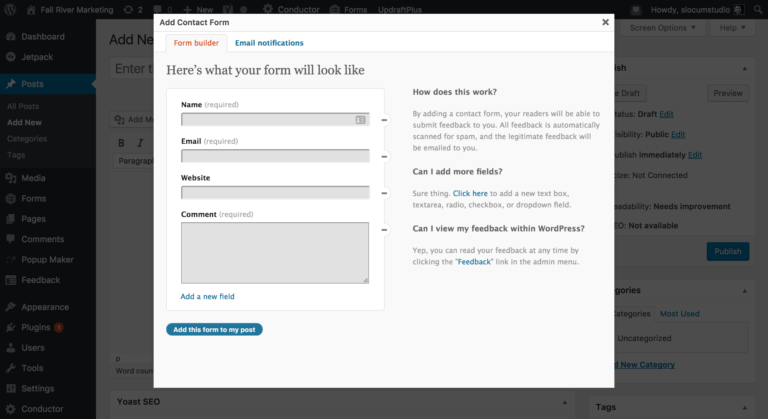 Jetpack contact forms: Made for Jetpack'ers
The most basic and easy to comprehend form "builders" on the market. I'd even argue that it's not much of a builder, but a pop-up screen that allows you to throw in a few basic fields, and tell it where you want the form submission to go once processed. No fancy drag and drop, no deeper workflow settings — your basic down to Earth, basic contact form, delivered through Jetpack.
Contact form plugin pricing (their business model)
With more features and integrations being released for form plugins, we should anticipate that they become more costly for the developers to maintain and support.
In many cases, developers have to be aware of 3rd party APIs, making fields compatible with a vast selection of themes, and ensure form transactions are secure, of which, has spawned the popular add-on business mode. If you're looking for a free plugin, but still want advanced integrations and great support — it's not available at the time of this writing.
Out of the 7 plugins I looked at, all but Contact Form 7, have some form of premium upsell. Gravity Forms and WPForms are priced on a tiered plan offering. You pay one price for no add-ons, pay another for more, pay the most to get them all kinda thing.
Ninja Forms, Formidable Pro, and Caldera Forms offer individual add-on pricing, which changes based on the amount of sites you register them with. In addition to that, they also offer bundled packs for their add-ons. Most popular add-ons that they neatly place together, in a more affordable purchase price.
Jetpack doesn't include a premium upsell to their form feature, but to the greater Jetpack ecosystem.
Total cost of ownership – renewals vs lifetime
Two contact form plugins offer lifetime licenses: WPForms offers a lifetime purchase option ($449) that includes support and all add-ons. Caldera Forms offers an Enterprise bundle ($499) which includes all of their add-ons at the time of this writing.
Formidable Pro offers a lifetime plan on their Enterprise bundle ($399) but drops support after a year unless you renew for $199.
Annual Renewal Discounts (non-lifetime plans)
Gravity Forms: 50% off if renewed within 60-day of original purchase
Ninja Forms: 50% off bundles & individual add-ons
WPForms: None
Formidable Pro: Personal renewal is $39, Professional is $59, Small Business is $99, and Enterprise is $199.
Caldera Forms: 50% off bundles & individual add-ons
If you were looking for the best value in the long-term, WPForms would win, but they also have the least amount of available add-ons compared to other plugin companies. It would take you roughly 3.5 years of paying for Gravity Forms Developer license to match the same spend, as an example.
Try before you buy –  free versions and refunds
As I mentioned earlier, all but one plugin is available in the WordPress repo — Gravity Forms.
If you want to take any of these plugins for a spin, download their free offering from WordPress.org, and follow along with the accompanying tutorial videos below. This will give you a good idea for using the plugin, before you swipe your credit card. Don't fret, if you do regret the swipe, each company offers their own specific refund policy, with the exception of Contact Form 7 and Jetpack, they're free.
Refund policy

Getting support
Saving support for last probably isn't the best idea, but here we are.
It's important that you understand how and where you will get support for your contact form plugin. I mentioned earlier that I only recommend plugins that I deem favorable to the WordPress community. That is to say, I've seen these companies interacting with users, supporting WordCamps, and overall have a positive impact around the community.
That does not mean that they actually provide great support. This guide doesn't measure the effectiveness of their support, but where and how it's defined.
[su_tabs]
[su_tab title="Gravity Forms"]
Gravity Forms
"Support is offered to verified customers only. Support is offered around the clock with the bulk of our team based in the United States (GMT-5)."
Gravity Forms offers a helpdesk style system, with knowledge base and FAQ pages outlined here: https://www.gravityhelp.com/support/[/su_tab]
[su_tab title="Ninja Forms"]
Ninja Forms
"Monday through Friday, 8:00am – 4:30pm DST" "Less than 8 hours for paid customers, up to 24 operating hours for free users"
Contact: https://ninjaforms.com/contact/
Documentation: https://ninjaforms.com/documentation/[/su_tab]
[su_tab title="WPForms"]
WPForms
I couldn't find an indication of response time or support hours at the time of this writing.
Contact support: https://wpforms.com/account/support/ (Must be logged in)
Documentation: https://wpforms.com/docs/[/su_tab]
[su_tab title="Formidable Pro"]
Formidable Pro
"If you have a Pro account, please log in to receive support. If you do not log in with a paid account, your support will be limited to possible bugs in the free version and will be given lower priority than those who have paid for support"
The team at Formidable is doing something that really caught my eye, a transparent helpdesk. You can view the questions asked, see their current status, and read the solution if there was one. They are using a traditional helpdesk ticket input form (go figure!) to submit requests.
Helpdesk: https://formidablepro.com/help-desk/Documentation: https://formidablepro.com/knowledgebase/[/su_tab]
[su_tab title="Caldera Forms"]
Caldera Forms
Caldera, like the others, offers a ticketing based help system. They are also the only company I see offering a paid offering for priority support, no matter which add-on or bundle you own.
Contact Support: https://calderawp.com/support/
Documentation: https://calderawp.com/documentation/caldera-forms-documentation/[/su_tab]
[su_tab title="Jetpack"]
Jetpack
Jetpack Contact Forms feature should be fairly straightforward, but if you do hit a snag, here is where to get help:
Documentation: https://jetpack.com/support/contact-form/
Contact Support: https://jetpack.com/contact-support/[/su_tab]
[su_tab title="Contact Form 7″]
Contact Form 7
If you're looking for support for this plugin, there isn't a paid support channel that I can find. You will have to rely on the author and contributing support staff on WordPress.org. That being said, if you do enjoy using CF7 and want to see it continue to thrive, consider donating to the author.
Documentation: http://contactform7.com/docs/
Support: https://wordpress.org/support/plugin/contact-form-7[/su_tab]
[/su_tabs]
Tutorials and final thoughts
Last but not least, let's see these contact form plugins in action!
Before I started this evaluation, I honestly thought it would have been much more of a neck-and-neck race to declare a single winner. What I found was, there is no single winner — which is probably what you didn't want to hear after getting this far.
At the end of the day, it comes down to what features (add-ons) you need, a builder that you're comfortable with, and at what price point you're willing to do business at. Support is very important, and that being said, it looks like they all have their clear channels to get you support for the product you're paying for.
Even the free ones have everything outlined.
The Best Contact Form plugin for WordPress 2017
I'm at a tie between Gravity Forms and Ninja Forms for the best contact form plugin for WordPress sites and Jetpack contact forms as the easiest and free to use, for basic contact form needs.
Do spend some time getting to know the remaining contact form plugins. Each has a specific opinion and use case for how you should experience them. Just because I feel Gravity Forms and Ninja Forms do a great job, does not mean it will work for you.
Gravity Forms
The longest reigning commercial contact form plugin for WordPress. A smart choice for anyone looking to invest in a quality plugin, with a great set of add-ons, backed by a team that's been around for years.
Pros
The grandaddy of them all
Lots of add-ons
Great value at the top tier
Cons
Form builder could use a face lift
Not in the WordPress.org repo
Ninja Forms
When they first launched Ninja Forms into the market, you could hear the collective sigh — do we really need another contact form plugin? 700,000+ active installs later, it's looking like the answer was and is, yes. This plugin is tied with my top pick, and it's the best choice for a free offering, with loads of great features.
Pros
Powerful for a free plugin
Gorgeous form builder
Cons
Many add-ons lagging behind 3.0 release
Jetpack Contact Forms
If you're looking for a super-lightweight solution, and pack in a bunch of other sweet features for your WordPress website — enable the Jetpack plugin and load up the contact forms module. This is a no frills contact form builder, that isn't drowning in integrations.
Pros
Lightweight & easy
Part of the Jetpack plugin
Cons
No integrations
No advanced fields
Part of the Jetpack plugin
Formidable Forms
If you're in a situation where you need a contact form plugin that has a great set of form design features built-in, checkout Formidable forms. The pricing model is similar to Gravity Forms, but you can also purchase add-ons separately.
Pros
Great form design features even in free version
Enjoyable form builder
Cons
Bundle pricing on the high end of the group, especially if you want stripe add-on.
Free version limited for form fields
Caldera Forms
The most opinionated form builder — in my opinion. Caldera feels like it was built with the WordPress developer in mind. Yes, you can build basic contact forms, but the overall workflow and options are great for the more advanced implementor.
Pros
Great for developers
I like the column builder in the free version
Cons
Some of the options might feel overwhelming to a beginner
Builder lagging in some areas
WPForms
A newcomer to the market, I'm betting long that this form builder becomes the go-to form solution for marketers. While the form builder is limited in the free version, the interface is user-friendly, mimicking the popular OptinMonster SaaS app.
Pros
Looking to be the marketer's choice
Clean form building experience
Cons
Upsell nags are a bit strong in the free version
Limited add-ons compared to other offerings
Contact Form 7
This tried and true contact form has over 1 million active installs on WordPress.org with over 800 five-star reviews. It doesn't mess around, it's all about getting contact forms, nothing more and nothing less.
Pros
Solid choice for someone who wants a lightweight contact form plugin
Lots of community support for the core plugin
Cons
Form building can be painful for some
Limited in integrations and well-supported add-ons
Conclusion
I hope you found this review and tutorial series useful to your form plugin review needs. Do let me know in the comments below, I'm especially interested in how you use your form plugins.
Summary
Reviewer
Review Date
Reviewed Item
Gravity Forms & Ninja Forms plugins
Author Rating