Creating rich media on WordPress is at an all-time high, and it's just getting started.
The team at CSSIgniter recently launched a free WordPress plugin for playing audio tracks on your blog called AudioIgniter. They've set their sights on making a super-simple audio player with clean customizable controls — and they've done a smashing job.
AudioIgniter Pro takes your music playing experience to a whole new level by introducing Soundcloud integration. In an effort not to gush over the product, I'll contain my excitement, but it's hands down the most seamless way I've seen an audio plugin approach integrating audio to posts. The sweet spot is in it's ease of use and clean UI to building your playlists.
In this WordPress tutorial, we'll dive into setting up a playlist on your WordPress website.
Installing & getting started w/ AudioIgniter
Download AudioIgniter from WordPress.org
There's not much to configure or prepare on your end to get started using AudioIgniter. Simply search for the plugin in the WordPress repo, install, and activate.
It's important to note at the time of this writing, AudioIgniter shouldn't be compared to most "traditional" podcasting plugins. That is to say, most podcasting plugins require you to complete an a la carte menu of sorts, to prepare your feed for podcatchers and podcasting services.
AudioIgniter's current iteration is all about using local audio files or streams hosted on SoundCloud for the Pro users. This makes initial setup time and overall configuration a breeze for most.
Here's a list of the free features, lifted from their .org profile page:
Unlimited playlists
Unlimited tracks
Responsive layout
Embed through shortcode
Flexible settings per playlist
Show/Hide track listing
Show/Hide track numbers in tracklist
Show numbers in reverse order
Show/Hide track covers in playlist
Show/Hide active track's cover
Show artist name
Custom "Buy track" URL field
Limit track listing height
Maximum player width
Heavily tested on the 150 most popular free themes on WordPress.org
Building your playlist
Using a AudioIgniter is like working with custom post types in your WordPress dashboard.
You'll see a new admin menu for creating your playlist, simply click to add new playlist, drop-in your tracks, and the end result generates a shortcode for you to use on any page or post throughout your site. The menu system for creating a playlist mimics the same ease of use on setup, while providing a sleek interface to do so.
Adding a track to AudioIgniter is easy:
Provide artwork if needed
Upload your track
Name your track
Provide an artist label
Optional buy link; if you're selling an item or track.
You can reorder, re-name, re-upload artwork at any time to keep your tracks fresh and updated. Reordering is a cinch, since you can drag and drop tracks right on the playlist builder page. If you're following along with this article, you'll see some extra customization options, which we'll talk about a littler later.
What if you want to bulk upload or sync to SoundCloud?
That's where upgrading to AudioIgniter Pro for $49 comes into play.
I mentioned that podcasting plugins can become complex, and it's not always their fault. If you look at just two popular services like iTunes and Google Play, each has their own sets of options that need to be filled out. More than that, you also need show descriptions, artwork, and other bits of metadata. Podcasting can get pretty tiring for a newbie, which is probably why SoundCloud has done well in that segment.
If you're not familiar, SoundCloud is like YouTube for audio listeners. You build your playlists on SoundCloud and users subscribe, comment, and share just like any other social network. It's a great service, easy to use, free, and you can find The Matt Report podcast there.
How AudioIgnite beats out a SoundCloud WordPress embed
Before we continue, I'm guilty of this myself, and now that I've had a chance to demo this plugin, this alone might be the reason why I make the shift to using AudioIgnite Pro for my SoundCloud embed.
SoundCloud embeds are huge. Here are the numbers:
Code size that AudioIgnite Pro loads when loading a page with one SoundCloud track: 293KB
vs.
Code size a single SoundCloud embed snippet loads with 1 track: 610KB
That's a HUGE difference, especially for anyone on a mobile network. This doesn't take into account the size of the audio file, just the assets needed to create a pretty audio player. If you're all in on SoundCloud and total page speed optimization is important to you, this is something you should consider.
Make life easier with batch upload
[twentytwenty]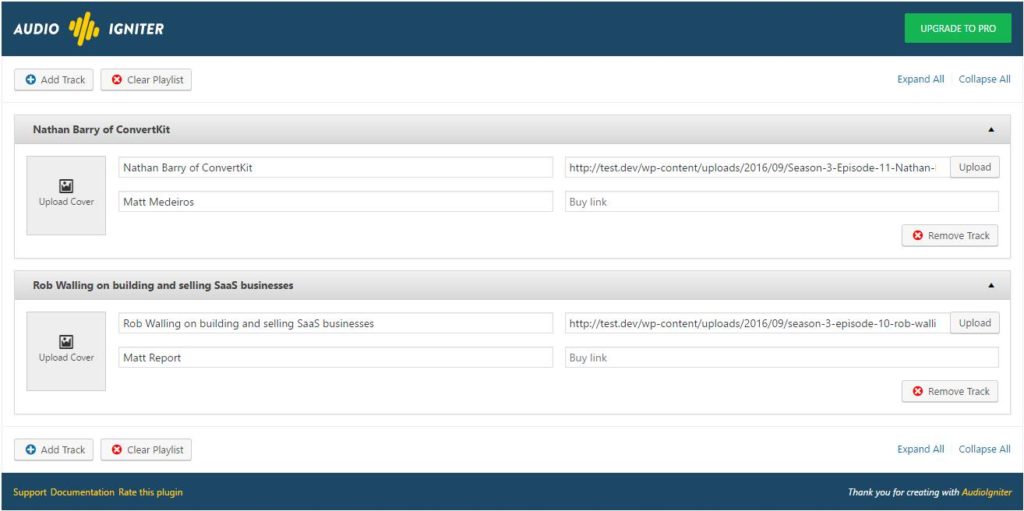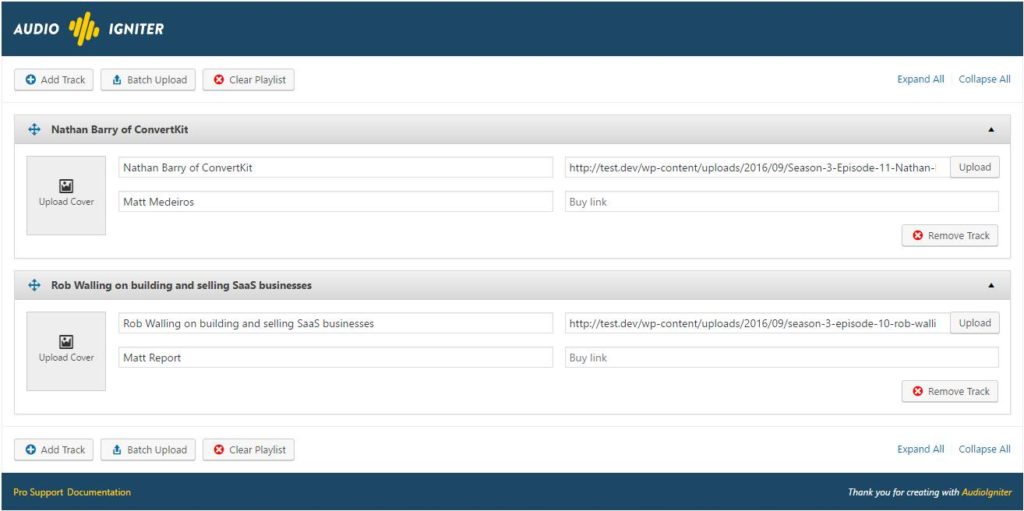 [/twentytwenty]
Drag the bar left to right, to see the free screen versus the pro screen looks like.
Another interesting use case for AudioIgniter Pro would be for someone hosting a membership site and has self-hosted audio tracks to aid in the content. Batch upload could save you a bunch of time building playlists.
Key if you're creating multiple members-only audio content playlists.
Customizing the look of AudioIgniter
Once you make your way towards the end of playlist building, you choose from a handful of customization options.
Under the free version of the plugin, you can hide a majority of the text elements the player displays along with controlling the pixel height of each track item and the overall player width. Once again, upgrading to Pro shines by allowing you to customize nearly every color option of the player.
Take a look at this screenshot to see the customizer options available in Pro:
Overall experience with AudioIgniter

I think for someone who's podcasting strictly through SoundCloud, running a members-only content site, or simply wants to create playlists of local audio files, AudioIgniter meets those expectations.
It's easy to use, get's the job done effortlessly and the Pro version comes with some great customization options.
One nice thing to have, at least for me, is the ability to create a playlist on a per-post context. Especially if I'm making a blog post for every episode of a podcast, I'd like to do that right from my post editor, so I don't have to have a unique playlist for every published episode.
Otherwise, I would highly recommend this plugin if it suits your needs.
Purchase AudioIgniter Pro starting at $49.