Choosing to use WooCommerce or Easy Digital Downloads is like trying to pick your favorite pizza toppings. It's not an easy decision, it depends what you're in the mood for, and you can't put them together, or it won't taste good.
If you follow the FUSE model I created for choosing the best WordPress plugins, both of these plugins pass with flying colors. Like many plugins, or even themes for that matter, you can bend them to serve similar needs. That's the nature of open source WordPress, really. For the context of this article, I'll focus on the core purpose of each plugin, and how they serve that need out of the box.
Easy Digital Downloads; for starting a digital product store
Right off the bat, we run into one of those, "it depends" scenarios, but I want you to dig deep into your plugin decision making mind. Understand that Easy Digital Downloads was started on, and will always be, focused on selling digital goods. WooCommerce, however, does have that convenient "virtual" button that allows you to turn your WooCommerce product, into a digital one.
The screenshots above provide a glimpse of options you'll have to configure, when creating a new product, in both e-commerce platforms. In my opinion, EDD provides you with less options to configure, which is a good thing, and I chalk that up to WooCommerce having "option overload" because of it's physical product roots.
It's quite obvious, since easy is in the name. You might even miss the fact that EDD doesn't get in the way from starting your digital product store, something that you don't realize is valuable, until it's too late.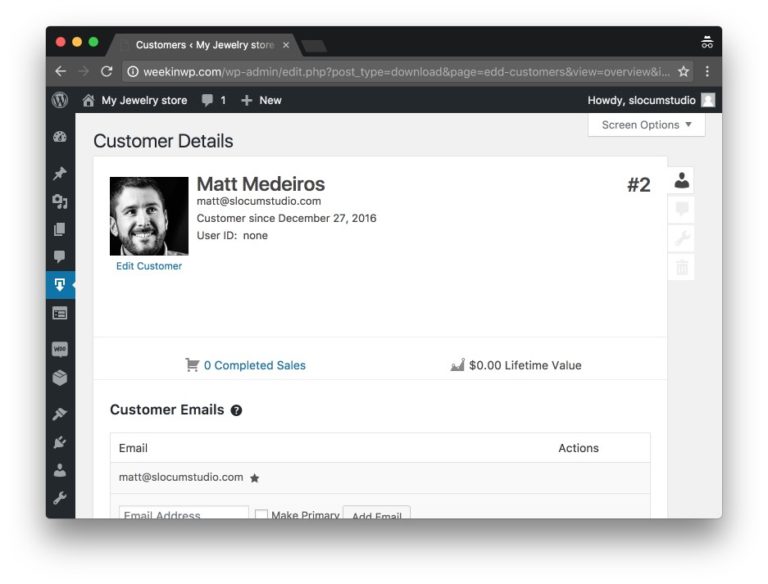 I also prefer the customer profile pages EDD has, which summarizes all the purchases of a single customer, on one page. WooCommerce sorts by orders, and then you can filter by customer. From a support perspective, I like the EDD approach better.
I know making the choice for an e-commerce platform is a tough one, your next step is to look at the add-ons available to you on both platforms. For instance, this nifty Message Users add-on by EDD, let's you use that same fancy customer profile page I mentioned earlier, to privately e-mail your customer — right in the dashboard. Some add-ons will be handy, and perhaps help you grow your business, and others will be critical must-haves.
Have a look around, but I give the nod to Easy Digital Downloads when you want to sell digital products on WordPress.
WooCommerce; for selling physical products
Hands down, if you're looking to build a "traditional" e-commerce shop on WordPress, WooCommerce is the smart choice:
You can't go wrong, but it won't be easy, especially if this is your first go-round into the e-commerce world. There's the learning curve of the software itself, both WordPress & WooCommerce, and then it's the technical understanding of it all. Things like SSL, hosting, payment gateways and more don't come easy. You should watch my 6 Things to know before selling your product video, if you fall into this category.
All of that said, there's comfort in choosing WooCommerce. You can customize it far beyond any hosted e-commerce platform, there's a bountiful amount of docs & support resources, and you own the entire experience on your website. It's truly empowering.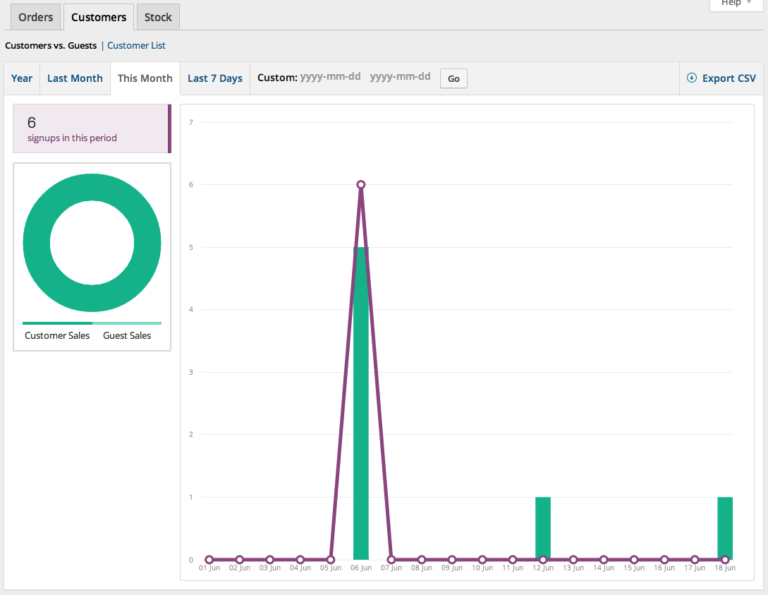 My favorite part of WooCommerce is the reporting system available to store owners. It's deep and rich, which forms a great "homebase" to monitor all aspects of your store's performance.
Neither platform will print money for you
I couldn't publish this post without mentioning that running an online store is going to take more work beyond the e-commerce plugin you decide to use.
I talk to a lot of first-time store owners, and they just want quick. No one likes to do the real legwork for planning out their business and planting a strong foundation into the promotional/marketing/branding channels of internet business. Oh, and having a great product, that helps too.
The plus side is, both platforms have choices for integrating into great 3rd party marketing services, CRM's and support desks.
I hope some of these points help you make the decision, if not, please feel free to drop a question in the comments below.
Download Easy Digital Downloads